Chiropractic Care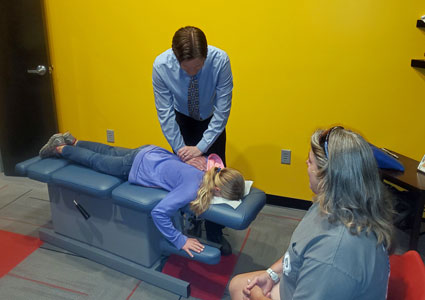 All the life, all the power in the body resides in the brain and it goes down the bottom of the head down to the top of the neck down the spinal cord and out the 31 pairs of nerves that control everything. The nervous system controls all of our tissues, glands, muscles and organs. Chiropractic is about ensuring your nervous system is functioning as it should.
How Stress Causes Dysfunction
Whether it's chemical stress from the air we breathe or the products we use or emotional stress from a job or relationship, that stress can wreak havoc on one's health. Stress can cause the vertebrae to dysfunction. When that happens, the brain and body can't communicate properly. When communication breaks down, symptoms arise.
The Simplicity and Power of Chiropractic
Dr. Wells will check out all the vertebrae to make sure they're functioning properly so the brain and body can communicate like it's supposed to. That's when your body does all the healing. We let patients know that chiropractic is very simple and also incredibly powerful.
With many techniques in his toolbox, Dr. Wells can use one or more to get the best results for each patient.

Activator Methods®
Diversified
Gonstead

We will adjust based on your preference and Dr. Wells' training.
While chiropractic doesn't treat anything, it's remarkably effective in addressing a broad array of conditions. These include the following:

Breathing troubles
Colic
Ear infections
Extremities pain (elbow, hip, knee, shoulder)
High blood pressure
Low back pain
Headaches and migraines
Neck pain
Sciatica
Torticollis
Walking difficulties
---
Chiropractic Care Hutchinson KS | Salt City Chiropractic | (620) 860-2174