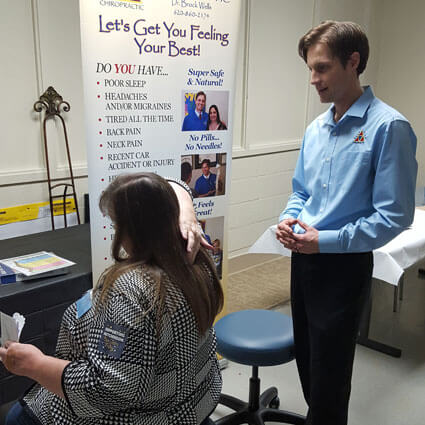 New Practice Members
Welcome to Salt City Chiropractic! We're honored that you've chosen us to be your natural health care provider. Remember that chiropractic is designed to make you instantly heal better, not feel better.
To save time, we invite you to download the new patient paperwork from our website and bring it in completed. Please bring a copy of your photo ID and your insurance card if you have insurance.
If you've been involved in an auto accident, bring your claim number. Please note that there will be some additional paperwork to fill out.
ONLINE FORMS »

During this appointment, you will have the following with Dr. Wells:
A consultation
A thorough exam
A computerized nerve scan with the CLA Insight Subluxation Station
Your initial chiropractic adjustment
Please allow 30 minutes for this appointment.
During this report of findings visit, Dr. Wells will go over your scans and exam results from your first appointment. Financials also will be discussed, so you know what your care plan will cost.
Please allow 15 minutes for this appointment.
These visits are quick, taking only 5-10 minutes each.
Get Started Today
Take that first step toward optimal health. Contact us today to schedule a convenient appointment.
CONTACT US »
---
New Practice Members | (620) 860-2174